Available Australian Labradoodle Puppies
Find the next member of your family
If you are interested in adopting a puppy, please fill out our application form.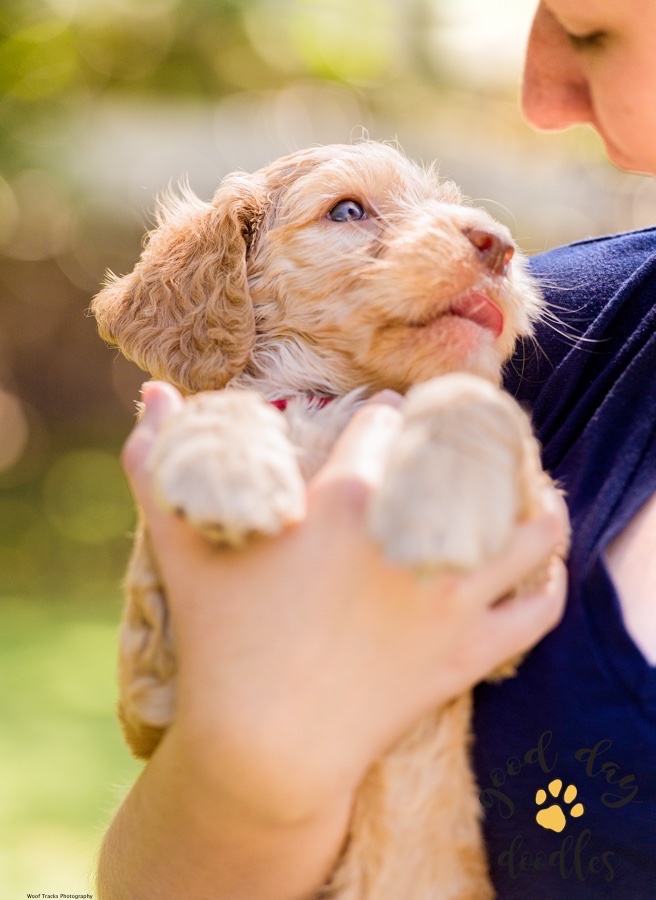 We currently have an opening for a chocolate male in this litter! He will be 40 pounds when fully grown. He will be ready to go home to his furever family 6/8/19.
Upcoming Litter Reservations
Upcoming Litter  – Bumble x Luke
Ms. Bumble and Cool Hand Luke are going to have a litter of little bumblebees! They will be standard ( 40-60) due mid to late June with pups going home 8 weeks later. They will have solid coats in chocolate, cafe, caramel/cream. You will be stung with disappointment if you don't submit your application quick!
Upcoming Litter  – Arwen x Luke
Ms. Arwen and Luke are about to honeymoon! They will have a BEAUTIFUL litter! Arwen's mom says she is the best cuddler! We expect her puppies to be as well 🙂 There is nothing better than doodle cuddles! They are going to have gorgeous chocolate and caramel coats. They will be 40-55 pounds. This size will be perfect for people that want big but not huge. Puppies will be here in July.
Upcoming Litter  – Jesse x Fenway
Ms. Jessie and Fenway will be expecting a litter of puppies due in July. They will be mediums with beautiful chocolate and caramel and phantom coats! We are so excited about this litter. They will have such wonderful temperaments just like mom and dad!
Upcoming Litter  – Grace x Harley
Ms. Grace and Harley are going to have puppies! We are so excited about this pairing. Both mom and dad have AMAZING temperaments. These pups will have traffic personalities and will be the definition of Man's best friend. They will be 40-60 pounds when fully grown. They will have beautiful solid chocolate and cream/caramel coats some may have white mismarks. We expect precious puppies due in late July.