Available Australian Labradoodle Puppies
Find the next member of your family
If you are interested in adopting a puppy, please fill out our application form.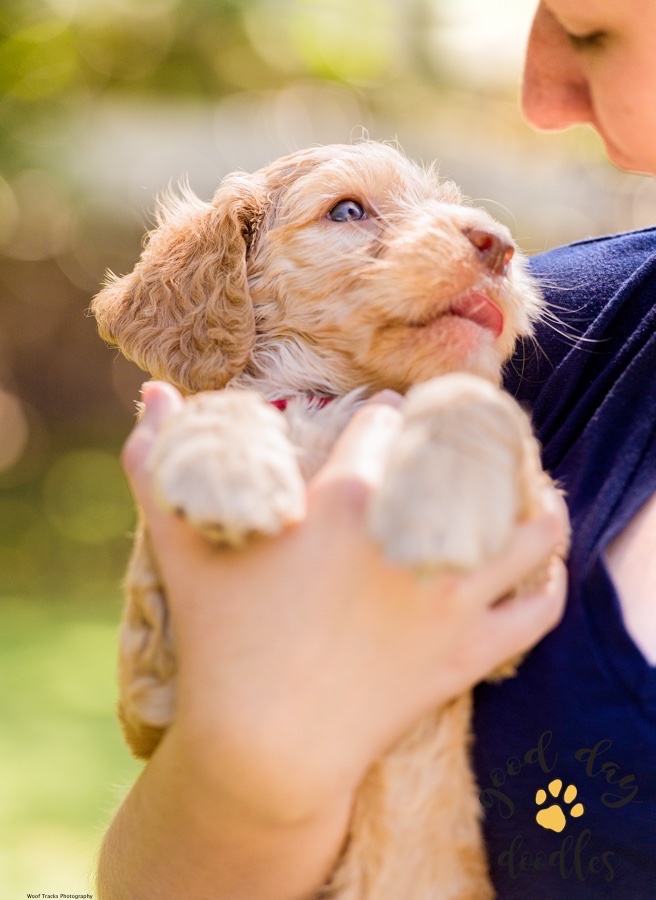 Available Puppy
We have an opening for a standard cream female in the Bumble X Boden litter! This beautiful girl was born December 22nd and will have a go home date of February 16th.
Upcoming Litter Reservations
Upcoming Litter #1 – Cricket x Brodie
The stunning Good Day's Cricket ALAA- 056781 with the curly fleece coat and the sweet and cuddly Happy Time Brodie ALAA-056436 are going to have a stunning litter of standards at 50-60+ pounds. They will have chocolate and cream/caramel coats in this litter. Pups are expected to be born mid-February
Upcoming Litter #2 – Ellie x Cash
Good Day's Ellie (ALAA-060505) and Good Day's Cash (ALAA- 066551). It is all rainbows here at Good Day Doodles. Ellie and Cash will have a rainbow litter of 1/4 Chocolate, 1/4 black and one 1/2 cream, red and apricot. The rainbow litter is so much fun. It is the best way to guarantee that we will have your favorite color. They will be standards at 50-60 pounds. These cuties will definitely be the treasure at the end of the rainbow. They are due to be born near February 26th.
Upcoming Litter #3 – Lucy x Fenway
Just back from their honeymoon, Good Day Lucy in the Sky (ALAA-051567) and Vancouver's Fenway at Good Day (ALAA-060335) will have their second litter due February 26th. These munchkins will mature to about 30 pounds with chocolate and cream coats that will be to die for!
Upcoming Litter #4 – Callie x Cash
Callie and Cash are going to have a rainbow litter! There will be something for everyone. These pups will be 50-60 pounds when fully grown. The litter will be 1/4 chocolate, 1/4 black, and 1/2 caramel/red/apricot. Both of these parents have famous sweet and loving Good Day personalities and I know they will pass that trait down to their puppies. They are due to be born February 21st.