Available Australian Labradoodle Puppies
Find the next member of your family
If you are interested in adopting a puppy, please fill out our application form.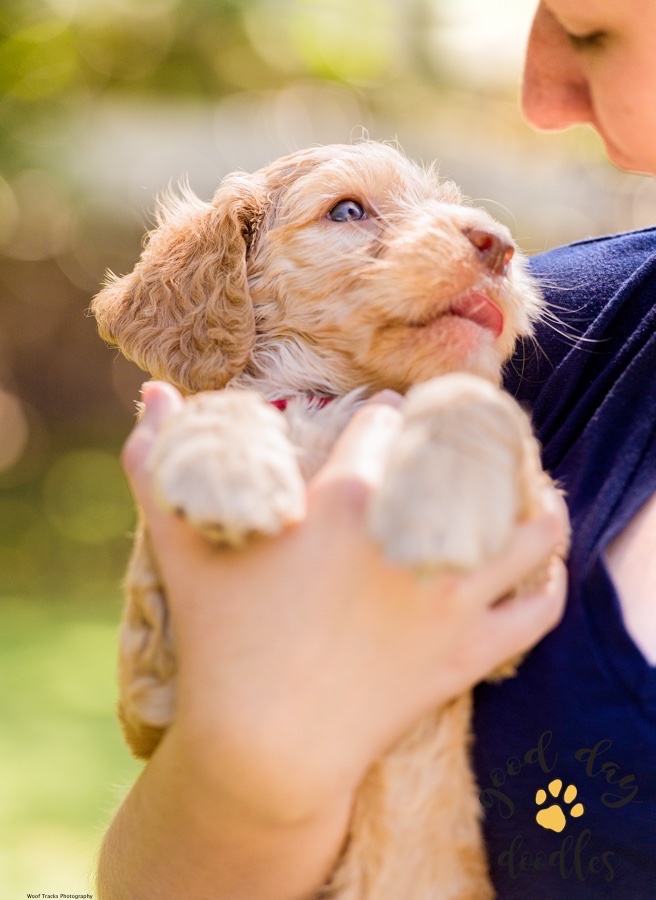 Upcoming Litter  – Chip X Kandi
Chip and kandi delivered 7 healthy chocolate pups on 11/17/19. We currently have one chocolate male reservation spot available. Please email us at info@gooddaydoodles.com if interested. Puppies will be ready to go to their forever home on 1/11/19.
Upcoming Litter Reservations
Upcoming Litter  – Scarlett x Cooper
This will be a first time pairing from two parents with exceptional temperaments and beauty. There will be chocolates and Caramel/creams. Females will be 40-50 and males will be 50-60 pounds. They will be due Mid December. We cannot wait for this Christmas time surprise! 
Upcoming Litter  – Daisy x Chewbacca
These sweet Doodles are expecting puppies due 1/7/20. They will be mini's at 20-25 pounds. They will have a chocolates, reds, black, caramel/creams with white mismarks. We do not have mini litters often so this list will fill up fast! 
Upcoming Litter  – Delilah x Charlie
Delilah x Charlie will have puppies due 1/8/20. They will be mediums (30-40) and will have all reds, caramels, creams and apricots. We are so excited for this litter!
Upcoming Litter  – Arwen x Luke
Arwen and Luke are expecting puppies that are due in early Janurary. They will be standards in the 50-60 pound range. They will have chocolates and caramels/ creams. 
Upcoming Litter  – Penny x Blake
Penny x Blake will have pups due 1/21/20. This paring is back by popular demand! This paring has produced some of the best temperments and awesome coats. They will be 40-50 pounds and will have solid chocolates and caramels as well some beautiful parti's.