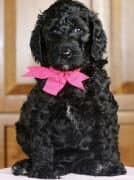 ALAA-091467
WALA00038936
Size: Standard (55lbs)
Coat: Fleece
Color: Black
Cardiac: Normal
CERF: Normal
EIC: Clear
PRA: Clear
Patellas/Elbows: Normal
About Miss Bean
Bean is the happiest dog you'll ever meet.  She has the most expressive eyes and always ready to give kisses.  Every stranger (dog or human) is a potential new friend in her opinion.
Her coat is extremely soft, and it's all anyone talks about when they meet her.  That, and her sweet personality.
She loves to run in the yard (she's so fast), plays fetch with her frisbee, and enjoys a good mud bath from time to time.  We call her our "little Muppet" for a reason.  She's goofy but so lovable!