Our Nutritional Recommendations
What do I feed my adult dogs and puppies? I get this question every day! For the past years my answer has changed many times as I'm always on the search for the best nutrition, low amount/odor poop (let's be real, there is a lot of poop at my house!) and the best bang for my buck. And you must realize I have many different nutritional needs at my house, from the adult retired breeding dog, the pregnant/nursing mom and the very young puppies.
We feed our dogs and the young pups, K-9 Kravings which is a raw food (yes it is uncooked, no preservatives all natural, and balanced raw food). We do this because I believe it is the healthiest for them and builds a stronger digestive system for life. In my opinion that is evidenced by the fact we never (knock on wood) have diarrhea anymore. We used to get breakout episodes of diarrhea at every developmental stage (4 weeks, 6 weeks and 8 weeks) and have to often treat by putting antibiotics in their little bodies, which in turn would throw off the flora in their digestive tracts…it's a vicious cycle. However, feeding raw food is not inexpensive and not always convenient. So if you would like to use a traditional kibble type food, I would recommend Life's Abundance. This is the food I started my pups out on many years ago. I've tried many, many foods and always come back to Life's Abundance All Stages Food. Today it also comes in Grain Free. Life's Abundance has never had a recall from its manufacturing plant! It is fresh and of the highest quality with respect to ingredients! The All Life's Stages Grain Free is what I recommend for my families with miniatures and medium puppies. For my families with Standards (the really big guys), I recommend the Life's Abundance Large Breed Puppy food. The protein content is lower which is important for the large guys with bones that are growing so quickly. Too much protein and the extra growth could cause problems. At one year, when growth has settled down, those families can switch to the Life's Abundance All Stages Grain Free. This product has gained the coveted 5 star rating from dogfoodadvisor.com.

Life's Abundance is a premium food and because of its high nutritional content, you don't feed as much. (less input means less output, guys!) There is a handy calculator called "Bag Selector" that will help you estimate how long a bag will last. There is also an auto ship feature that is not only convenient, delivering your food right to your door but saves you money with an added built in discount! Be sure to check out the dog treats as well.
When you pick up your puppy we will given a sample of the food we have been feeding . The puppy will be used to eating 2-3 times a day when he comes home. After 6 months of age some dogs are fine with just once a day. The amount to feed your puppy will depend on his weight. As they grow and age, dogs require different amounts of food so remain aware of your dog's body weight checking it every couple of weeks and adjust the amount accordingly. Allow about 20 min. for your Australian Labradoodle puppy to eat. Uneaten food should be taken up between feedings. Fresh water should be given with every meal, as well as during and after periods of exercise.
Our Supplement Recommendations
Puppies only need one supplement, and we wholeheartedly believe in NuVet Plus! It is not expensive and is the easiest way to be sure you are giving your beloved pet the very best in care. It is Natural, Powerful Immune System Support!
NuVet Plus: Veterinarian Recommended and Scientifically Formulated to Provide Everything Your Pet Needs for Optimal Health!
NuVet Labs' Goal is to Help Increase Your Pet's Longevity and Quality of Life.
NuVet Plus for Canines and NuVet Plus for Felines provide the very best human-grade, natural ingredients available, and utilize the latest advances in medical, veterinary, and nutritional science.
NuVet products help put pets on the "path to perfect health" and support their development through every stage in life.
NuVet Plus is not available in stores or directly to the general public. You can only purchase NuVet Plus when you get a recommendation only from a pet professional.
Thousands of the nation's top veterinarians and other pet industry professionals use NuVet Plus® for their own pets and recommend it to their clients' pets!
NuVet Plus is Natural – No Artificial Sweeteners or Fillers
NuVet Plus – A Taste Pets Love! Made with Real Chicken Liver.
Insider's Secret: NuVet products are not available in stores; they are distributed through educated and dedicated pet industry specialists. You can order directly from the manufacturer with a referral from us: 68230
Why Choose NuVet Plus?
On the forefront of pet health since 1997
Manufactured in a U.S. human pharmaceutical FDA- registered laboratory
Natural, human-grade ingredients
Strict adherence to Good Manufacturing Practices (GMP) and Standard Operating Procedures (SOP)
Loaded with antioxidants, amino acids, herbs, vitamins, minerals, and more
Cold-processed using a patented paddle-drying process to retain the rich nutrients found in each ingredient
Safe for dogs and cats of all ages, including pregnant females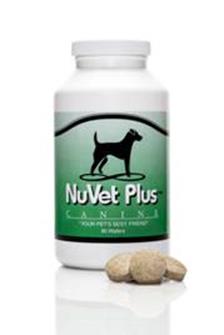 How Does NuVet Plus Work?
Combats free radicals and helps reduce the risk of many ailments that can strike your pet
Promotes proper function of the immune system, cardiovascular system, bone structure, nerve systems, glands, organs, and more
Protects against dangerous toxins and other harmful substances that pets encounter daily in the environment and in foods (many of which contain hormones, preservatives, meat by-products, pesticide residue, sugar, and allergens like corn and grain)
Helps beautify the skin and coat with natural omega fatty acids that are unavailable from most foods and supplements because they are destroyed through heat treating (cooking)
Saving JUST ONE major trip to the vet could pay for more than a lifetime supply of NuVet Plus!
Not Available in Stores. How do you order?
Option #1: CALL TO ORDER 800-474-7044 Order Code: 68230
Option #2: Save up to 15% on Autoship when you order through our link
The AutoShip program allows you to receive a 15% discount on NuVet Plus®. AutoShip is an automatic refill of your NuVet Labs® supplements; the shipping frequency is calculated according to the number of pets you have and how many supplements they each receive per day. You will continue to receive the discount for as long as you stay on the program, and you may cancel at any time, for any reason, with no cancellation fees or penalties.
Learn The Details Of Our Breeding Program Below: